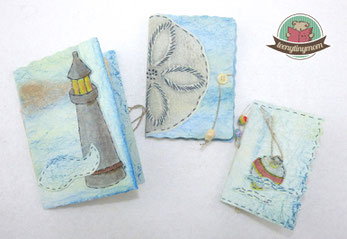 Illustrated paper books with a bit of fabric
A few weeks ago I attended once again a workshop of Frances Pickering, whose work I admire a lot. Frances and her husband Jim are amazing personalities and it is a lot of fun working with them. 
We sit in an artistic cocoon for a few days and afterwards it makes me feel happy and content.
And I get to take a little book home. 
My inspirational theme was Oregon and I cannot get enough of it. Sand dollars, light houses and buoys are my passion. 
The book was made of paper and fabric, painted, stitched, some parts were waxed, and pasted over with decorative stickers. You can see the result here:
---
---