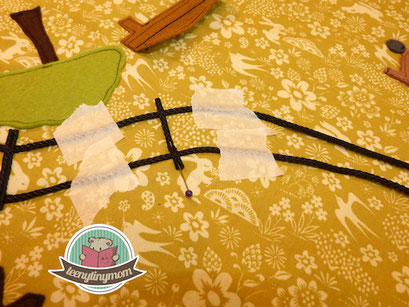 The Frogtape is removable without residuals
When sewing playbooks, there are often buttons or ribbons that are annoying. As a consequence the item that you want to sew, does not slide well or you sew in a ribbon by accident where it doesn't belong. 
To avoid situations like these, I use "Frogtape". 
Examples:
- I paste something over it - e.g. buttons or beads
- Ribbons, that could be sewn in by accident
- if I want to move ribbons into the right position
- as a base line for stamps
- to sew a pretty diagonal line
I didn't use adhesive tape for the ponytail, but a piece of felt, because the hair would not be easily removed
---
---