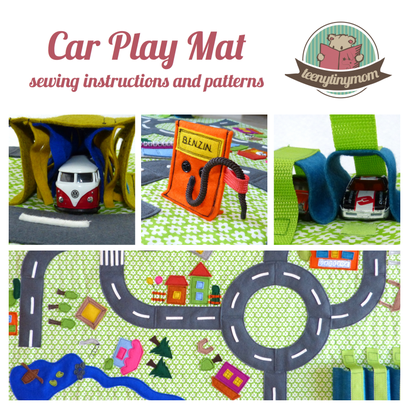 Create a car play mat by yourself
My son had three little favourite cars. They had to go on all our trips with us. At home the car play rug was his favourite and all I could hear "Vroom Vroom" . The play carpet can be taken on trips, because it can be folded and three cars can fit into the garage.

The advantage with a self-made play mat is that every detail can be adapted to the kid's taste. If it enjoy going to the zoo, you could sew animals into one corner, if it likes the road to his granny, you can recreate that.
Instead of a police building, you could sew on a public swimming pool.
I created a proposal for a play carpet, which you can adapt individually as you wish. This carpet is for little car drivers. Of course, it could also be a camping site or horse stable. Everything is possible.
The tutorial contains 2 files for you to download:

1 - Step by step sewing instructions with many colored pictures - Step by Step (16 pages)
2 - Printable true-to-scale (1:1) templates (4 pages)
You can download the tutorial (pdf - ebook) here on Etsy and start sewing right away.
---
---