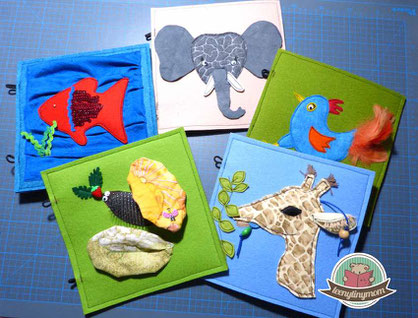 Now the book is finished :)
This is a simple tutorial to create a book with individual pages.

It is a book of 10 pages with a wide variety of sensing elements.

This type of book has the advantage that the individual pages can easily be removed or replaced, once the child is not interested i them anymore, or if the pages are dirty or ripped.
 
You will need
solid synthetic cord (diameter 3 mm)
two key rings (diameter 3 cm)
webbing (23 cm long, 2 cm wide)
felt (57 x 25 cm) - if you don't have a big piece of felt, you can also sew two pieces together
a staple remover as a tool
KamSnap or alternatively a very large snap fastener

The individual steps are described in the photos below.

By the way, you can find the individual instructions for the pages of the feel book, if you click on the link "touch and feel book" below.

---
---
---
---
---