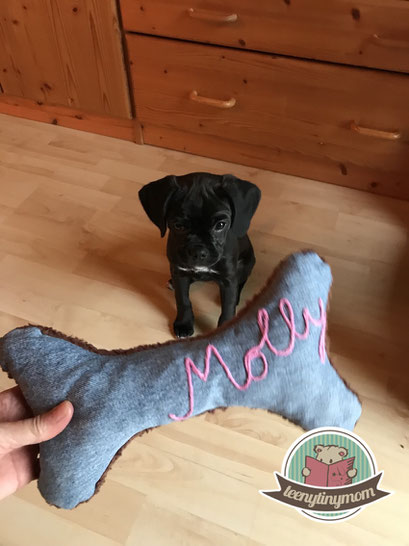 A dog bone for Molly
 I have wanted to try the presser foot 43 by Bernina for a while now. It has been waiting on my work desk, but now I've found a good reason to use it: A dog bone for Molly. Of course, Molly cannot read, but toys should be pretty, too.

I chose denim fabric and baby plush for our puppy's sharp teeth. I used denim fabric, because it's always good and baby plush because it's quite sturdy and because Molly loves plush.  
 
For the script I bought two different kinds of cord / drawstring: synthetic cord with 2mm diameter and another cord made of hemp with a 2mm diameter.

Unfortunately, I couldn't sew up the 2mm drawstring, because it didn't fit into the presser foot. Neither with, nor without the needle threader.
 
Hence, I would recommend to use a cord with a maximum diameter of 1,5mm. It's really soft and flexible like a cord made of hemp.
 
When starting to sew, you'll have to hold onto the cord and then just keep sewing. It worked really well and was much easier than it looks. You'll achieve a really nice effect and it's fast without having to try around too much.
 
I filled the bone with felt remnants. Since I always sew with wool felt, nothing can happen to Molly even once she has bitten through the dog bone. An old cotton shirt torn in strips serves the purpose as well.
 
Molly was really happy about the bone and dragged it into her cave stright away. I am curious how long it is going to last.

I am going to use the presser foot more often. The results really convinced me and I can come up with at least 5 more projects, for which I can use the presser foot.
Tutorial how to appliqué cords with the BERNINA couching foot no 43
You can download the template here:
Mollys Dog Chew Bone - Pattern
Bone.pdf
Adobe Acrobat Dokument
217.0 KB
Hier seht Ihr noch andere Beispiele für den Einsatz des Bernina Nähfuß #43
---
---