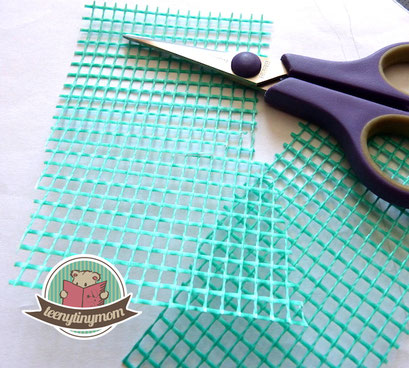 Nets, Mesh, Gauze or Fly Nets ?
Sometimes you want to include mesh in the play book that children can look through and discover things. You can use nets or gauze to do so. Here are some examples and the materials used.

For the dog's suitcase I used the mesh from a notebook case. Maybe you have an old bag somewhere that you are not using. This kind of mesh is very sturdy.

For the lake in the Thumbelina book I used a blue tulle to sew. But be careful, tulle is not always tearproof.

To create a curtain or a bath curtain you can use a small jewellery bag or the remnants of lace. But it has to be tearproof. The remnants of fly nets or laundry nets are very suitable. They are usually very stable.

For the soccer field labyrinth I found a bag that used to hold a basketball.

The green fabric on the last photo is repair tissue from the painter's trade. I used it to sew a small chicken house.
---
---