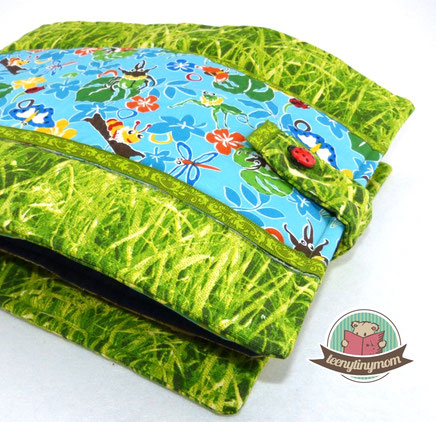 How to make a Quiet book?
I have made 10 pages with creepy crawlers and one "I spy page" This makes up 6 pages in a book.

I always sewed together two pages and worked in three loops. Leave an opening so that the book can be turned over and stitches together by hand.
After having turned it over iron the edges well and stitch them together.

The cover is made of sturdy fabric that is strengthened with fusible interlining.
I adorned the front cover with a fabric with beetles on it and stitched around the beetles using quilt stitches. I put sew-in interlinings below the beetle fabric.

The two fabric parts are turned inside out, sewed together, turned over and stitched together. Before that work in a small loop so that the book can be closed using a button or press button. (sollte man das nicht der reihe nach schreiben?) In the center, as shown on the picture, sew on a sturdy ribbon. Leave three openings through which you can insert the key rings.

This way you are going to create a flexible book. You can add or remove pages, for the instance that something breaks or the kids want to swap pages.
And I sewed a bag of the same sturdy fabric so that the book is protected and can be taken everywhere.
---
---