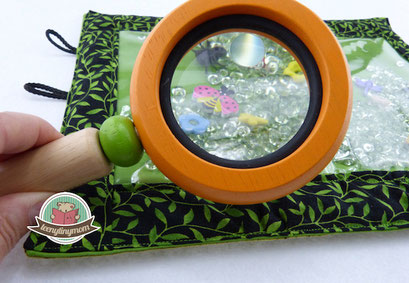 I spy
There will be a detective page in my beetle book. I love search games and kids do, too :)
It is a really nice activity for long waiting periods.
The perfect add-on for my
beetle book
is a magnifying glass. Every child loves playing detective.
You just collect different little things: buttons, chains, jewellery parts, deco-confetti, pearls, maybe spare parts, sew on patches, little items of Kinder suprise eggs.
The most important thing is that the parts you use are not sharp-edged.
There is an extra tip for the foil that I used on the detective page.
I like using colorful acrylic raindrops. They are available in different colors in art supply stores or in the decorations department of many stores.
I used the same principle to sew a lake that I incorporated into the teddy book. There are a few fish and frogs swimming in the lake.
I used the same sewing method for thumbelina, but I used gauze instead of foil for the cover.
For the little pouch, in the picture below, I used granule material / pellets for the stuffing. The pellets are about the size of a rice corn and is used as stuffing material for toys.
You can fill small plastic bottles as well. It is just important that you seal the lid with glue, so that the bottles cannot be unscrewed by accident.
It is really nice if you take a photo of all the little things before filling them into the search game. The picture should be printed, thermo sealed and added to the search game to encourage the children to hunt for every little item.
These are a few examples for detective search games. Or as they say in English: I spy with my little eye. You can't see what I can see.
---
---
---