Hiding snail
They don't have legs, but they crawl in their own way, too.
Actually it appears that they are floating and they can hide blazing fast.I just don't like having them in my garden.
Template Snail
Schnecke Schablone.pdf
Adobe Acrobat Dokument
993.1 KB
---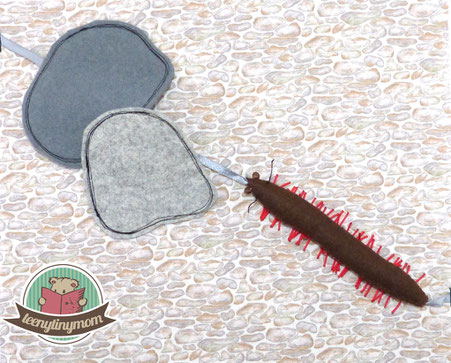 Quick feet

The creepy-crawlies with most legs should not be forgotten. In reality, they do not have a thousand feet, but sometimes they do have 750 feet.
All of them like moist ground and some of them even light up in the dark to scare their enemies.
These tiny little creatures are really inventive.
Sometimes they roll up to a ball, sometimes they dash under a stone - just like my millipede on this quiet book page.
Template Millipede
Tausendfuss.pdf
Adobe Acrobat Dokument
501.7 KB
---
Little Squabblers
Today we are meeting a little creepy crawly on the beach.
It is a really creative animal because every hermit crab lives in their own house. Most of the time it is an empty snail shell.
Whenever it has outgrown the shell, it can happen that it will try to steal another hermit's crab bigger shell.
However, my little hermit crab on this page is fine. It has its own beautiful snail shell in which it can hide.
Template Hermit crab page
---
Fuzzy bumble bees
I am always looking forward to spring and especially the day on which the fuzzy bumble bees tumble around looking for a little cave.
My little bumble-bee made of felt is hanging on a thread and lives in a little cave in the middle of a flower meadow. The bumble-bee flies diligently from one lavender to the next.
Bumble-bees can even fly backwards and only sting in case of extreme emergency. Apart from my little bumble-bee - this one is really kind ;)
---
Template bumble bee Quiet book page
Hummel.pdf
Adobe Acrobat Dokument
435.7 KB
---
---