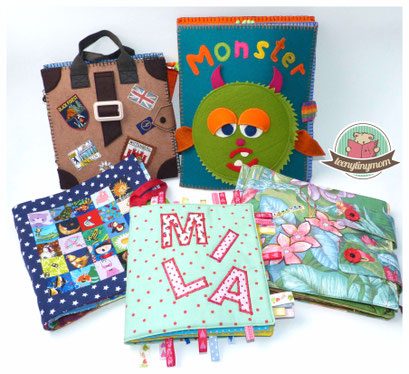 small to big
On this picture you can see the small differences. It's a personal decision how big the books should be. It depends on the child's age and theme.
For a one-year-old baby it's easier to hold a small book in their lap or hold it in their hand. For a toddler, the book could be a bit bigger.
A book made of felt and a few more pages is heavier, too.
The babybook made from fabric is 8x8" in size. The color book is made of fabric as well, but 10x10" in size.
The theme is important as well. I chose landscape format 11x9" for a fairy tale book, because I wanted more playing area for Thumbelina.
For the monster book, on the contrary, I thought portrait format 9x12" is more suitable for the monsters and the different fasteners.
My favourite project: Teddy on holiday - is 9x9" in size. Because of the square shape it can stand upright when it's flipped open.
My advice:
Decide which material you would like to use first. Consequently, you draw a sketch with the content. After that you decide which size would be suitable. These two usually go hand in hand, because some themes are easier to realise with felt.
---
---