Create a special favorite toy for your child, grandchild or a friend's child.

Toddlers love feeding teddy bears,  dolls or dogs. They can think about what would make the animals or children full and happy.

The book can be taken everywhere for the child to get comfort from it when at the doctor's or to keep them occupied in a restaurant or when they have to wait or sit quietly for a while.
There are 5 animals, a baby and a child and different kinds of food in the book.
There are foods that would be to the liking of many. The food can always be moved into their mouth or beak. It can be funny when you ask the child whether a child would eat a mouse or a baby a bone. :)
Introduction with lists of materials and step by step sewing instructions with many colored pictures for 8 book pages (19 pages)
Printable true-to-scale (1:1) templates (9 pages)
File with a few tips (3 pages)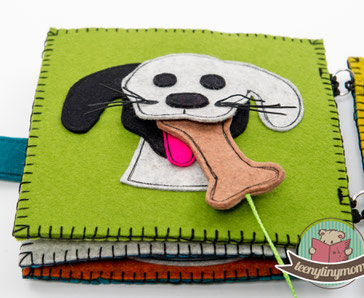 ---
---